PLASMACAM Archived Website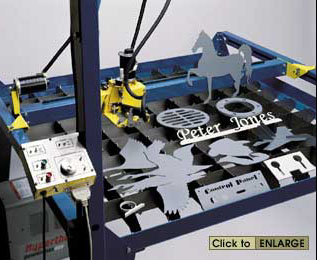 plasmacam.com
Make artistic and geometric metal parts the easy way with PlasmaCAM!

PlasmaCAM includes a Z-axis for torch height control, plus very impressive software for turning your ideas into parts.

There are 2 models and many attachments to buy. We focus on providing you with the best possible CNC cutting system for your specific needs.

Every run of machines we manufacture is sold out before completion.



PlasmaCAM Testimonials
"I've had a lot of fun with it, and its been easy to use."
- Marni Thielbar, Thielbar Mfg.

"For the cost of the machine, you can make a tremendous amount of money"
- Maurice Lavoie, Pemberton Valley

"I originally bought just the software and I was impressed with its ability to import bitmapimages easily and convert them. Then I bought the machine too and it's very impressive."
- Cal Crosswhite, Accu-Fab